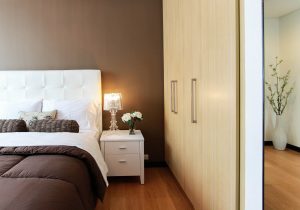 Lack of storage space equals mess and clutter, often leading to annoyance and frustration. But fear not, for every situation there are simple and practical storage solutions to keep your home clutter free and enhance your sense of space.
Utilising what would otherwise be dead space means everything stays tidy and organised – no more needless rummaging around trying to find what you need when you need it.
So, seek out every nook and cranny and use it create extra room. But use it for things you really need, not for keeping items that you never use!
Hallway
If you happen to live in a two-storey house, then cupboards or drawers under the stairs can neatly hide away jackets, shoes, brooms, vacuum cleaners, and the like.
Likewise, hooks on the walls can store anything from bicycles to dog leads.
Living room
The opposite of a 70s sunken floor, a nifty raised floor creates a handy horizontal storage cupboard.
The couch and coffee table take up a lot of floor space. Make this double up as storage space by choosing ones that have a compartment where you can stow things.  The same can apply to an ottoman.
And if you're wanting to go all secret agent, insert a hidden compartment under the floor to stash valuables.
Kitchen
From foodstuffs to pots and pans, the storage demands on a kitchen are many. As such, there have been many innovative developments over the years to help the kitchen accommodate all it should.
Extra shelving so you can stack items in cupboards and corner cupboard solutions such as a Lazy Susan. No more items lost in that no man's land at the back of the cupboard.
Drawers are now in vogue in the kitchen. They are replacing cupboards because you can more easily access what you've stored.
A pull-out pantry is not to be missed in today's kitchen. It's the ultimate space saver!
Increasingly, people are installing fixed bench seating with storage to maximise the functionality of their seating area.
Laundry
When space is at a premium, a separate laundry room might not be an option, so consider fitting a European style laundry in a cupboard in the hall or kitchen instead.
Bedroom
Built in wardrobes are great for storage but can have a lot of wasted space. Include clever shelving systems in the wardrobe and reclaim that dead space.
Drawers under beds can give you that much needed place to store away linens and spare bedding.
Use the space above the bed for shelving for books and other objects.
In a child's room install a bunk bed but instead of a bed below turn it into a study nook or a kick-back area.
Choose bedside table with drawers or a cupboard.
And for the ultimate bedroom space saver, check out the Tiltaway bed. It makes an ideal guest bed and works well in a multi-purpose room.
Bathroom
A good spot to stow toiletries is behind the bathroom mirror. Consider a cupboard or shelves that slide out from the side.
Over door hooks are great for additional hanging space for the bathrobes and clothing.
This is a just a small taste of the many clever storage solutions available. What would you add to this list?
More blog posts you might enjoy:
The Added Value Of A Sleepout Cabin
An Ecopod Granny Flat keeps extended family close
How we deliver the 'eco' in Ecopod
What People Love About Tiny Homes