When you choose an Ecopod, you're making a great economic and ecological choice – that's what puts the 'eco' in our name. The energy, carbon emissions, and costs to construct an Ecopod are substantially lower than for a typical dwelling in New Zealand. Our design principles – compact spaces, smaller footprints – reflect a commitment to providing practical, stylish, sustainable building solutions for everyone.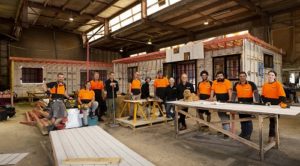 Better by design
We begin with tried-and-true designs, built on decades of experience and building knowledge. Our architects and engineers know the value of sufficiency and design that into every aspect of our pods. From the timber frame spacings to the number of screws and nails required, we look to optimise for weight, resource use, waste, and performance every step of the way.
Ecopod designs are modular, ranging in size from 20 sqm to 120 sqm, and each can be customised to suit your needs. That means you can avoid the purchase and maintenance costs of a building that is larger than your requirements while having the functionality and form that you desire. Even our largest designs – up to 7.2m wide and 15m long – fall under the size limits for transportable buildings. And because they are built in a factory, they can be installed with less impact on the nearby environment than on-site builds have, and at the same time minimise waste and site-works costs.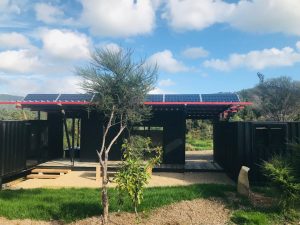 Ecopod also offers a wide range of off-grid options, including solar (photovoltaic) electricity generation systems, battery storage systems, composting toilets, and water collection and recycling.
Clever use of space
Years of working with clients to create places they enjoy living in have allowed us to refine our designs from the largest to the smallest detail, ensuring the most effective use of space. We have optimised layouts to suit different types of use, making every design as comfortable and functional as possible.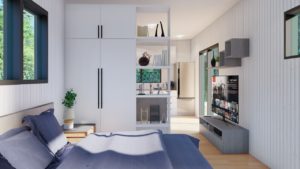 Living rooms and kitchens provide for easy movement and efficient use; for example, fridges are located at the edge of the kitchen for easy access to a cold drink. Modular cabinetry is sized just right for glass, bottle and plate heights, and bedrooms have built-in bedside tables and wardrobe units to ensure every corner is used wisely. Bathrooms have space-efficient corner showers with sliding doors, and living areas have thoughtfully placed items like USB power points and two-way light switches.
Conscious materials selection
We construct from New Zealand pine, which sequesters carbon in the building, provides great insulation properties and can be easily worked with and reworked in the future if needed – unlike many other transportable buildings made with metal or steel framing. Double-glazed aluminum-framed windows and high R-value insulation are standard for all projects, reducing electricity consumption and costs for owners. Underfloor insulation is polystyrene, with fiberglass for walls and ceilings that are made of up to 65% recycled materials.*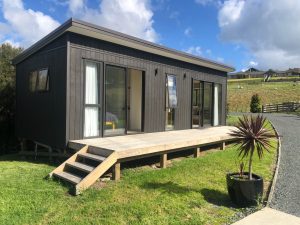 Cladding is WeatherTex vertical-grooved weatherboard made of 97% hardwood species bonded with a 3% natural resin.** Interiors are lined with low-emission MDF and coated in water-based paint,‍*** with optional plywood features. LED lighting, quality chrome tapware, vitreous enamel whiteware, and robust electrical fittings all combine to provide the highest levels of form and function.
Made for sustainability
By designing our pods in increments of standard timber sizes, we maximise material use and minimise wastage. Having a centralised manufacturing plant allows us to store and save offcuts for reuse, and recycle much of our waste, including polystyrene insulation and timber offcuts. Our build team is conscious of sorting and diverting all recyclable materials from landfill. And our systematised process for building means there's little to no rework or delays for builders and suppliers. You get many benefits from building in factory-controlled conditions.
The small footprint of most Ecopod designs suits infill housing and facilitates efficient land use. And being transportable, they can be reused in different situations as your needs change. A minor dwelling, home office, and teenage sleepout are all examples of uses that can change over time.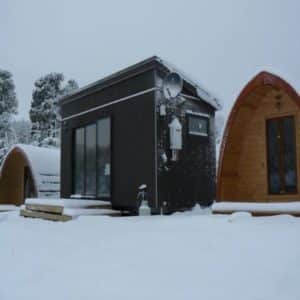 Insulated to high standards, their compact design means Ecopods are energy-efficient to heat. It also means a lighter footprint on the land, which is good for site ecology; with timber or steel piles, Ecopods can be easily removed without affecting the permeability of the soil.
LifeCycle Analysis
Excerpt below from our 2021 Lifecycle Assessment (available on request) on a pod we built by a VUW Architecture PHD post-graduate: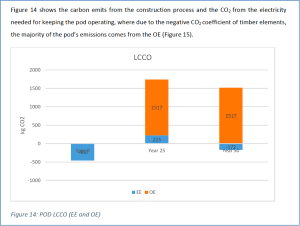 The lifecycle energy (LCE) consumption compared to an alternative building method (steel SIPs) shows at year 50 the energy profile is slightly less than timber frame: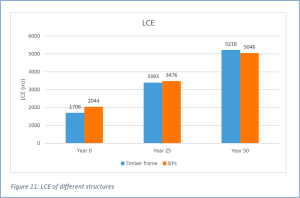 However, the lifecycle carbon emissions equivalent (LCCO) are overall much higher due to the initial embodied energy of the steel and plastic manufacturing process: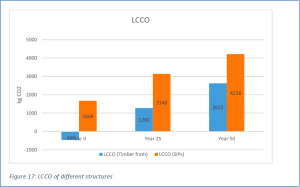 And if we were to use uPVC joinery, as will be required from May 2023, the lifetime energy (LCE) consumption would be somewhat lower than with our current aluminium joinery: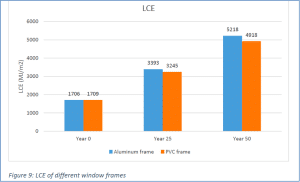 Consented buildings
We specialise in consented dwellings that comply with local authority environmental regulations on construction, wastewater, and earthworks. We provide you with all building consent documentation to show the design and build standards for resale. Unlike some other providers of transportable structures, Ecopods are designed and built to meet the latest New Zealand Building Code and standards, including NZS 3604:2011, with particular emphasis on insulation, sustainability, and longevity.
References
* Bradford Gold Environmental Benefits
** WeatherTex sustainability statement https://www.weathertex.com/nz/sustainability/
*** GoldenEdge MDF product statement
Find out more
Chat with our team to find out more about the range of Ecopod designs and custom options.