When Gayle and Julien were researching the ideal living situation for Gayle's mum, Jaylene, they had a lot to consider. The lease on her flat was up for renewal, which meant they could look at all the living options. Eventually, they decided on a granny flat in Gayle and Julien's backyard provided the best option.
This meant that Jaylene could be part of the family, but still live independently. It was a more affordable solution and it also gave Gayle and Julien a small income on their land without having to subdivide. A small dwelling meant there was still plenty of garden for a play area and entertaining.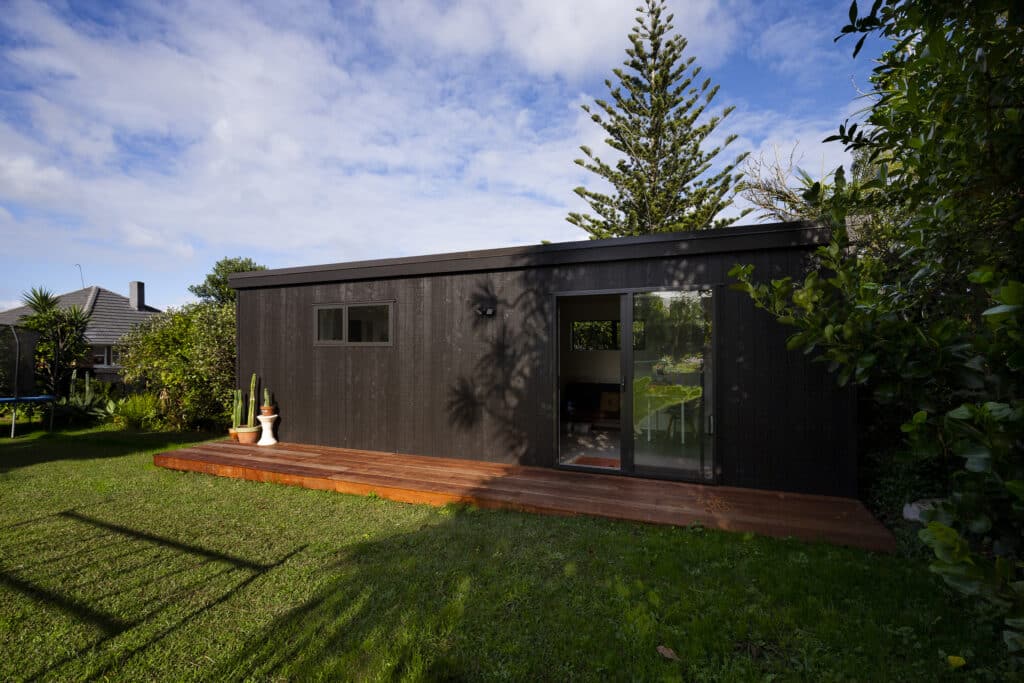 The family initially considered building a tiny house, 'but we realised the design aspects we liked, not to mention the small scale of a tiny home, were not applicable to Grandma's needs', says Julien. So they looked for a design solution that had the right amenities and aesthetic to suit their existing home – a classic brick ex-state house – and provided a more spacious, self-contained layout.
After looking at three or four different companies, they found that Ecopod brought all the right ingredients. 'Ecopod was the best for price, aesthetics and materials,' says Julien. 'We liked the way Ecopods were constructed – the materials, durability, warmth in winter with the double glazing and insulation, and the ability to keep cool in summer.'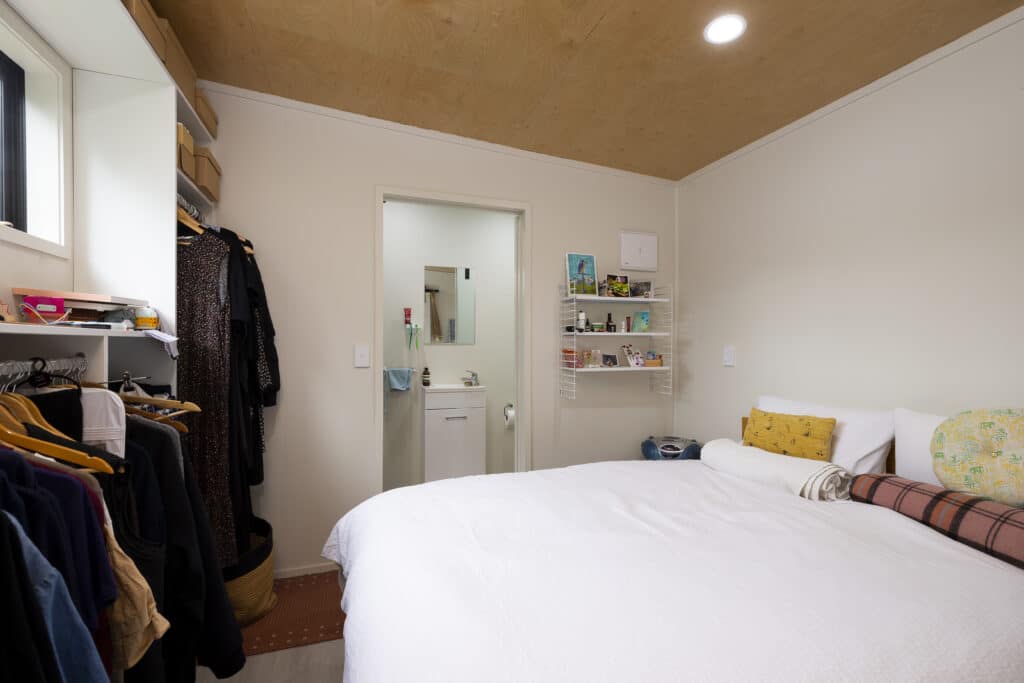 'We visited the Ecopod workshop to see the materials and how they were made, and it was all top-quality stuff. And the cladding is great – hardwearing, low maintenance. It all looks very natural.'
For the interior, the family worked with the team at Ecopod, starting from an existing design layout then customising to meet their needs. 'Ecopod were great with communication when modifying the design and layout,' says Julien, 'such as changing the point of entry – now you come in via the kitchen and the bedroom is at the southern end.' This meant the home could be tucked into the northern corner of the site, facing east to look across the garden, and with privacy from the main house.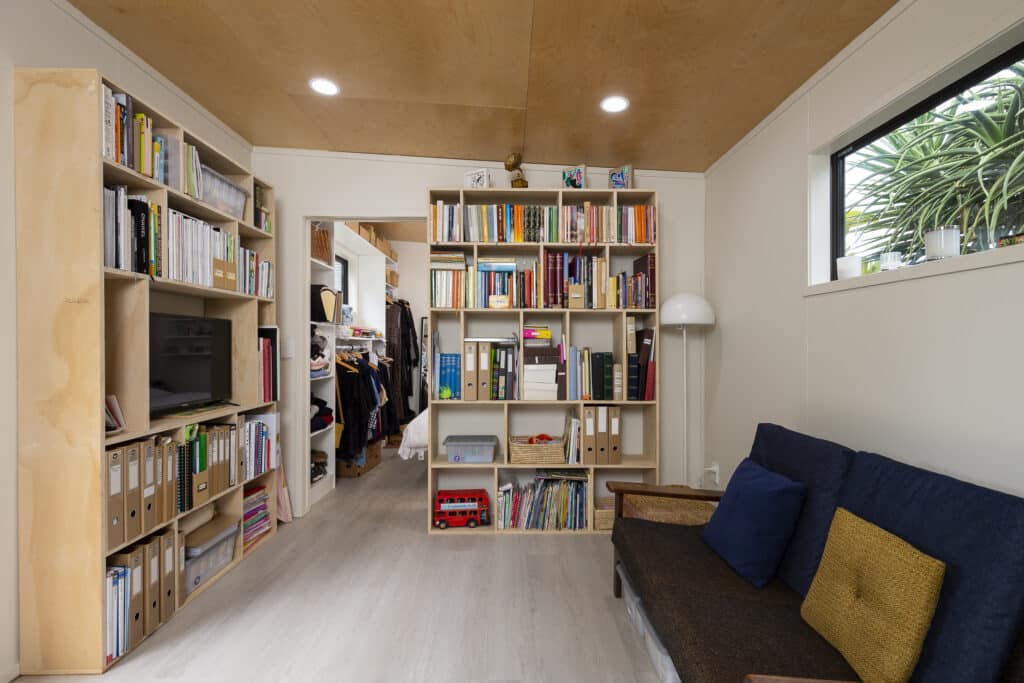 The family added extra storage and cabinets to utilise the space to its full capacity, with built-in plywood shelves to match the feature plywood ceiling. 'Mum loves the house,' says Gayle. 'It's very comfortable and fully self-contained, and we have built a deck for her so she can sit outside and entertain. It feels like it's always been there.'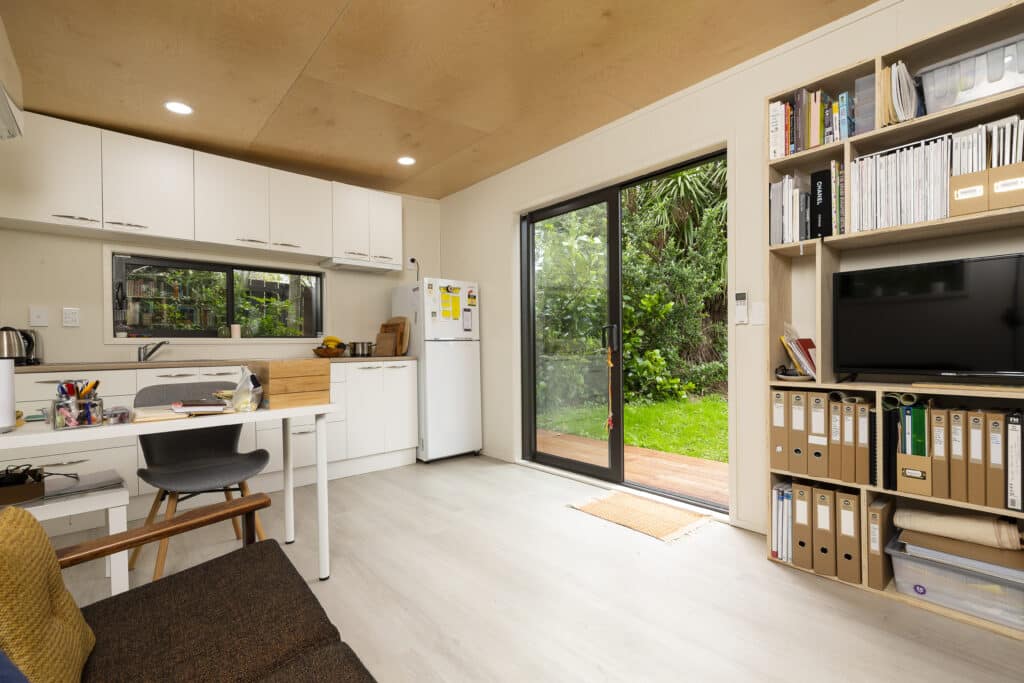 Design notes
The Ecopod, named Te Atatu, is a 26.9-square-metre fully self-contained home, featuring a double bedroom, ensuite, full kitchen, dining and living space opening onto a timber deck. It can be used as a Tiny Home, Granny Flat, Self-contained Sleepout or worker accommodation.
Find out more
Chat with our team to find out which pod is the right option for you.