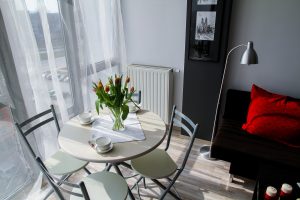 We know first-hand how it takes a long time to do something simple!
Our Eco Pods are a simple solution to creating extra space or setting up a holiday home. But this simplicity is the result of thousands of hours of research, development, trial and error as we've refined the Pods to make them the high-quality design and build they are today.
The Pods offer modern solutions to space problems and are made to make the most of every millimetre available. They are extremely flexible to meet your needs. The real ingenuity of the small space design is that by combining standard Pods you can create a stunning home or holiday home of any size. We show that you don't need to have a flat section or a big budget to achieve this. You can create a stylish and adaptable space that can change with your evolving needs. With fully customisable kitchen and bathroom portable cabins options, our Pods can fit just about any lifestyle!
Take our M Pod as an example. It provides a small, yet spacious, extra room, and can even include a bathroom and a kitchen. A fully functional compact kitchen and a bathroom with toilet, basin, and shower. Everything you need in a small but perfectly formed space.
Just as in a caravan, the bathroom and kitchen are closer than they would be in a large home. However, the bathroom is appropriately positioned away from living areas and is fitted with an extraction fan to vent any smells or humidity from the room, as well as having a double-glazed window that opens. There is a door on the bathroom and a pull-down roller blind that covers the kitchen if you want to tuck it away. Designed for small-space living, this affordable portable unit is built to the same standards of a house.
While our L and C Pod ranges are more spacious, they still include the design features that make optimal use of the space available, providing design aesthetics and high functionality. Large windows, high ceilings and open design create a sense of extra space. Fold-down beds, built in shelving, and outdoor decks generate extra living and entertaining space.
The thought and detail that goes into the design is carried through to the finish. Constructed from sustainable materials, the Pods are fully insulated to New Zealand Building Code standards and finished with stylish and durable ply that can be painted. The insulation along with the double-glazed aluminium windows will ensure that you'll stay warm and cosy in winter and cool and fresh in summer.
Every square centimetre has been intelligently designed and constructed with the utmost attention to detail and finished to the highest standards by our craftsmen builders, so all you need to do is focus on furnishing and decorating. Setting it up to your taste is what makes your new house a home.