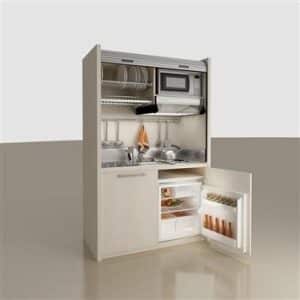 Ask people to describe their dream kitchen and chances are you'll hear the word big. But if you've ever tried to cook in a large, yet poorly laid out, kitchen, you'll know that big doesn't necessarily equal better.
When it comes to making the most of your kitchen, design trumps size. Functionality is key and there's no reason a compact kitchen can't be efficient.
The cook top, sink and fridge are where most tasks are carried out in the home kitchen. This forms the so-called kitchen triangle; which kitchen designers have worked with since the 1940s. It's all about proximity and being able to move with ease between these points. With a small kitchen, that's never an issue!
Space-saving solutions will help keep bench space free for cooking preparation. Take the combi-microwave, for example. It makes an ideal addition to any small kitchen. The space of one with the functionality of two pieces of kitchen equipment. Combining a microwave and conventional oven, today's models are easy to use and provide maximum flexibility.
A portable butcher's block provides valuable additional bench space. Not to mention storage. Buy one with wheels so you can move it around. Make sure the wheels are lockable! You don't want your work space slipping out from under you when working with sharp knives or hot pans.
Invest in a cook top cover to utilise this area – or part thereof – as extra bench space. Likewise, a sink cover can extend your preparation area. Shelf extenders can double your cupboard space.
When space is limited, there's an art to cooking. Namely, clear up as you go. You don't have the luxury of keeping ingredients and piles of pans spread around the room so put things away as you work to keep your workspace clutter free.
The small kitchen's finest accessory is not kept in the kitchen. It's the BBQ. With the right type, you effectively have an outdoor oven to roast meats, smoke salmon, cook a pizza, grill vegetables, or even prepare a serving of French toast. Wheel your portable butcher's block outside for bench space in your outdoor kitchen.
By applying creative thinking with clever design, there's little you can't produce in a compact kitchen.
Your Pod Kitchen
Including a kitchen in your Pod is easily done. If you choose our designer options, we can include a fully customisable kitchen to meet your unique requirements.
We work with MiniKitchens New Zealand because as small-kitchen experts they understand that you don't want to compromise on style and functionality.
For inspiration on how you'd like your kitchen to look and function, visit one of their showrooms in Auckland, Christchurch or Mount Maunganui.