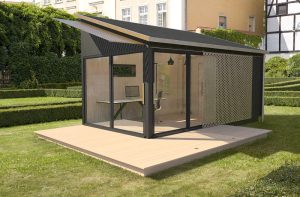 Are you working from home or dreaming about it? With over 50,000 small businesses in New Zealand, it's on the upswing. Digital disruption is changing the way we work making it easier than ever to run a business from your home. An appealing lifestyle with many benefits – like no time wasted commuting, for example.
There are tax advantages too. New Zealand business owners can claim the cost of using their home for business. A portion of rent, mortgage interest, electricity, and maintenance are claimable. It's best to discuss the ins and outs of your personal situation with a professional, but the IRD website is a good place to start exploring what you can claim.
However, ask anyone who has been working from home for some time and they'll tell you it's not all sunshine and rainbows. Distractions can make it difficult to work inside your home. Kids need feeding, dogs need walking, the house needs cleaning, laundry needs doing, and friends, family, and neighbours don't always respect the work-home boundaries you've set. Separating work from home can be hard. You need to be both flexible and disciplined.
Many people find a dedicated space gives them a better sense that they are at work. Somewhere that becomes a strict family-free zone where you can shut the door at the end day leaving work behind.
Here's a few things to consider when setting up your ideal home office:
Is it quiet?
Can you shut it off from prying eyes and unwanted visitors?
Does it have good natural light and a view of greenery?
Is it insulated and does it have heating and cooling?
Does it have room for your equipment and storage requirements?
When it comes to equipping your office, it's better to splurge than scrimp. Treat yourself to quality equipment. Second-hand office furniture stores can be a good place to find what you are seeking. At a minimum, you'll need:
A chair – make sure it's adjustable and comfortable as you'll be spending a lot of time in it.
A desk – consider investing in one you can alter from sitting to standing mode.
A computer – laptop, desktop, or both.
A laptop stand for the desk.
An all-in-one printer, copier, and scanner.
Storage space (yes even in today's so-called paperless office, we seem to need storage).
Spend time decorating it to your taste. It's where you'll spend a lot of time so make it somewhere you want to be. Don't want the desk against the wall? Don't put it there. Short on space? Use filing cabinets to create a desk. The possibilities are endless and there are no office policies forbidding personal items. Unless you set one! After all, you call the shots.
Some business owners prefer even more distance from their home even if it's just a private office in the garden. The backyard office is growing in popularity. Crossing the backyard and unlocking the door to your office can help make the mental switch to work mode.
Have you thought about having an office in your backyard? Our light, bright 2 bedroom transportable homes makes an ideal home office space. As it is a room only, no building consent is needed. Fully insulated with energy efficient LED lighting, you can also choose options such as, solar power, built-in shelving, an extension lead to connect to mains power, and a deck; perfect for working outside on warm days!
Like to find out more? Contact us today. We'd be happy to talk you through the environmentally friendly possibilities.